Wines from Romania, Republic of Moldavia and Italy are on the top. Romania and Republic of Moldavia obtained the only two Great Gold Medals given this year
Bucharest, 10th of June 2016: Wednesday, 8th of June this year, at Bragadiru Palace from Bucharest, took place the International Wine Contest Bucharest 2016 Gala. This year's edition of the competition, the first one itinerant, was hosted in Focsani, Vrancea County.
"IWCB accomplishes the mission to be an entity of hierarching and promoting quality wines, both in the benefit of the consumers and producers. Regarding the competition's evolution, our main goal is that at the following editions, to find and impose improvements accepted by OIV ( International Organisation of Vine and Wine) during the evaluation process. Also, we are glad to contribute in this way at the reentry of Romania in the superior league of the world of wine, in terms of production and market " says Catalin Paduraru, CEO IWCB.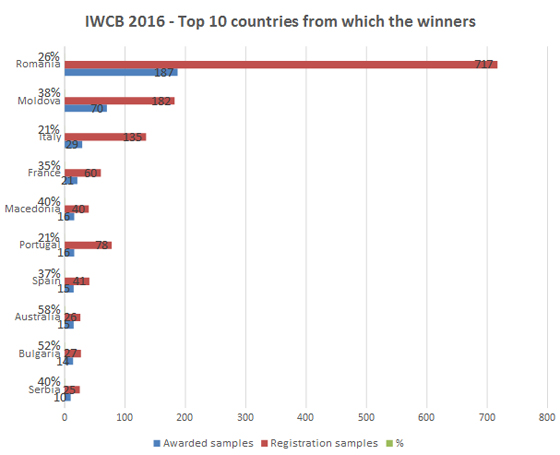 About the winners
The Great Gold Medals from IWCB 2016 were received by a Romanian wine (Tamaioasa Romaneasca, vintage 1975, obtained in Statiunea Pietroasele) and a Moldavian one (Chardonnay  vintage 2013 Botrytis, a product of Château Vartely).
The most appreciated rose dry wine – C'est soir Rose (Cabernet Sauvignon) 2015 from  Domeniile Lungu, Romania.
The most appreciated red dry wines – Encore Syrah 2012 from KATARZYNA ESTATE LTD, Bulgaria and St. Andrews Cabernet Sauvignon 2013 de la Wakefield/ Taylors Wines, Australia.
Romania obtained 187 medals (41,5% from the total number of medals):
1 Great Gold Medal
59 Gold Medals (36% from the total number of Gold Medals)
127 Silver Medals (45% from the total number of Silver Medals.
The best importer from Romania is also in 2016, VINEXPERT with 8 Gold Medals and 7 Silver Medals.